News and Events
Grant Bates Trophy 2017
The Grant Bates Trophy for the Club Handicap Doubles Tournament, 2017, was awarded to Oscar Marshall and Harry Lawes after an excellent tournament held over the week-end of 14 & 15 January. There was a strong entry of 16 pairs, formed into 4 leagues of 4. The leagues were held over Saturday and Sunday morning, followed by Sunday afternoon's knock-out stage.
There were many keenly fought matches, a number of which went all the way to 5 all, 40 all. The pairing of Roger Boning and John Conibear made a speciality of coming back to win from a position of 5 - 2 down during the knock-outs, but were unable to perform the trick for a third time in the semi-final when they were beaten by the tournament runners-up, Izzy Watts and James Baker.
Thanks go to Andrew and Craig for organising and marking the tournament, the sponsors Nuffield Health, and Matthew Alden who kindly provided Sunday lunch, and of course to all the competitors who played with good sportsmanship throughout.
Congratulations to the winners and runners up, pictured below.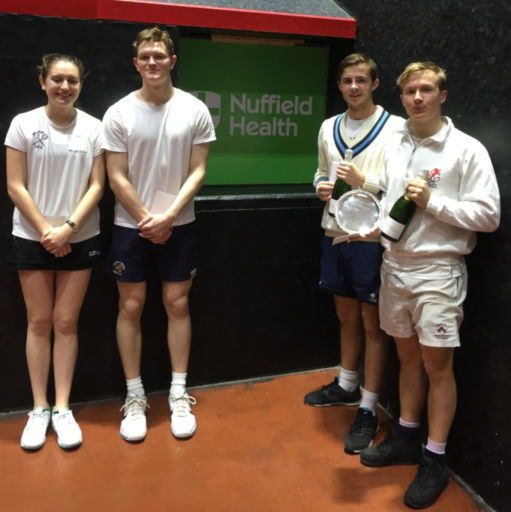 ​
Runners up Izzy Watts and James Baker, and winners Oscar Marshall and Harry Lawes.
Youtube channel
Brodie Cup Match Report
Match Report : Nov 20th
Brodie 1st Round away to Oratory
Chris Lintott
Playing on a strange court can do odd things to even experienced players, and when some of our team started talking about the nice green walls of the Oratory playing well as if studying a cricket pitch I was worried. An intrepid group had set out from Oxford at 8am on a Sunday, no mean feat for a bunch of students and academics, determined to do well despite the long history of Brodie matches which favours the home team.
The first game was a nail-biter, as Doug Holden and George Peel repeatedly got themselves into a winning position, only to have their opponents beat chase 2 and 3 (twice) and chase 1 on the floor. They ultimately prevailed, and George in particular, resplendent in a very professional looking bandana, resolved to have no more such nonsense. A slightly shell-shocked Oratory pair were swiftly disposed of to the tune of 6/0 6/1.
At 6/0 and 2/0 up Liz Leach and Archie Cornish were strolling in their match, with the openings repeatedly hit by both players. An impressively solid pair at the other end danced with joy, though, on winning the match's ninth game, and found the experience so exciting they took 11 of the next 13. Liz and Archie did their best to cling on, changing tactics and serves, but had no answer to careful cut shots and aggressive play.
If Oxford nerves were wobbling, then we were restored by Mark Fischel who dispatched his opposition 6/1 6/0. Frankly, the score flattered the Oratory player after a superb display by Mark, and I heard one of the more experienced home team mutter that 'even when I had a handicap of 20 I wouldn't have got near that'. I then scraped a scrappy victory, securing passage to the next round and leaving only Graham Piddock to put the cherry on the icing on the cake with the match of the day.
Facing a player sporting a spiky mask that Hannibal Lecter would envy, Graham stuck to his guns and took the first set 6/3. At 5/1 in the second he realised that another two set hammering would appear rude, and gifted his increasingly vocal and often erratic opponent the next five games. Finding a second lease of life, though, he took the third if not with ease then with a very professional 6/0.
So 4-1 to Oxford and with thanks to Oratory for their hospitality we roll on to a home quarter-final on the 11th December. With the advantage of the Oxford Tambour, the team will be quietly confident of getting to a second semi-final in three years. Do come along and support us.