News and Events
Oxford win Varsity matches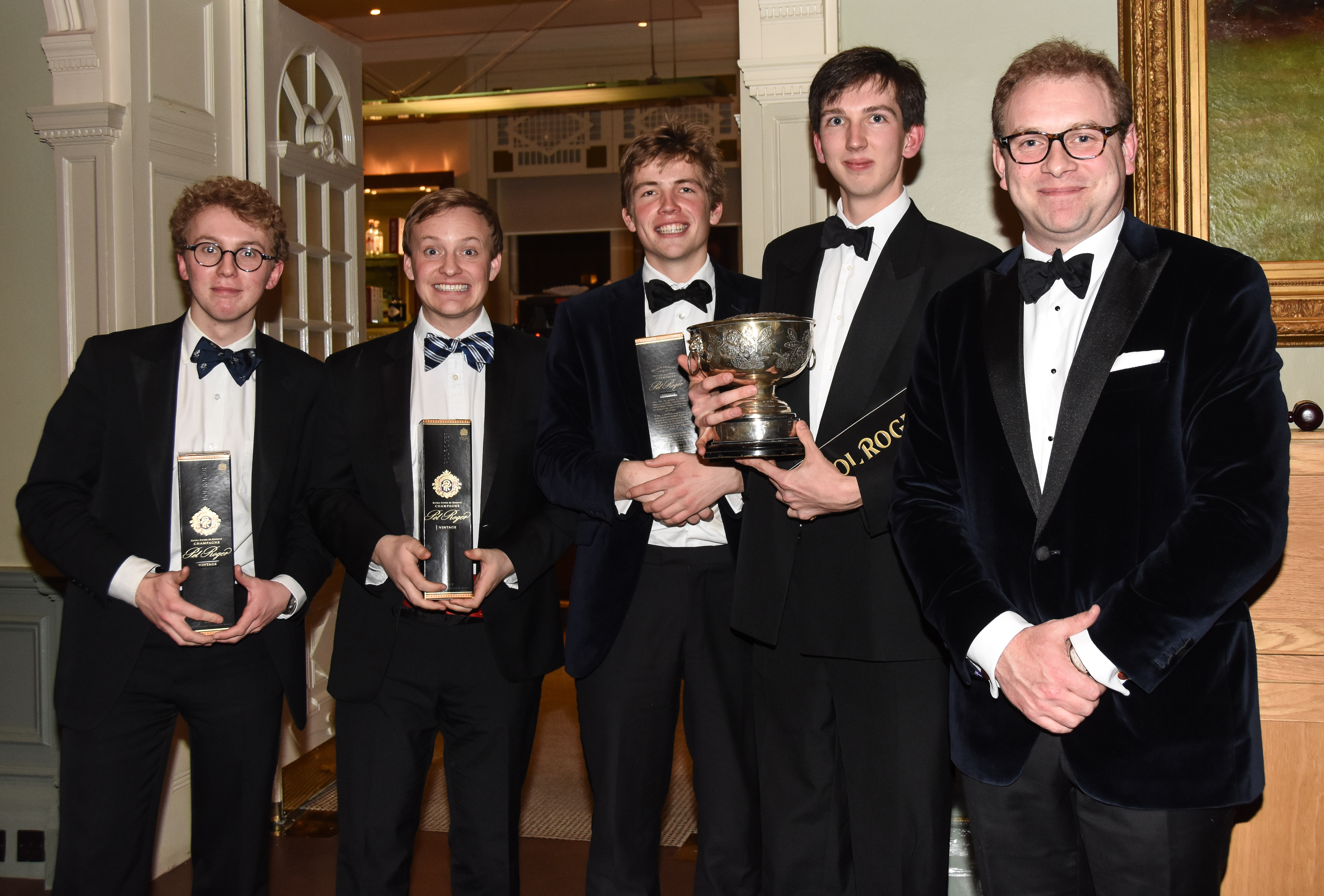 2018 will undoubtedly be remembered as one of the closest Men's Varsity matches ever to take place. The two teams were very evenly matched on paper, and the fixture really did go down to the wire with Oxford winning the deciding set of the deciding doubles to reclaim the Varsity title 4-3.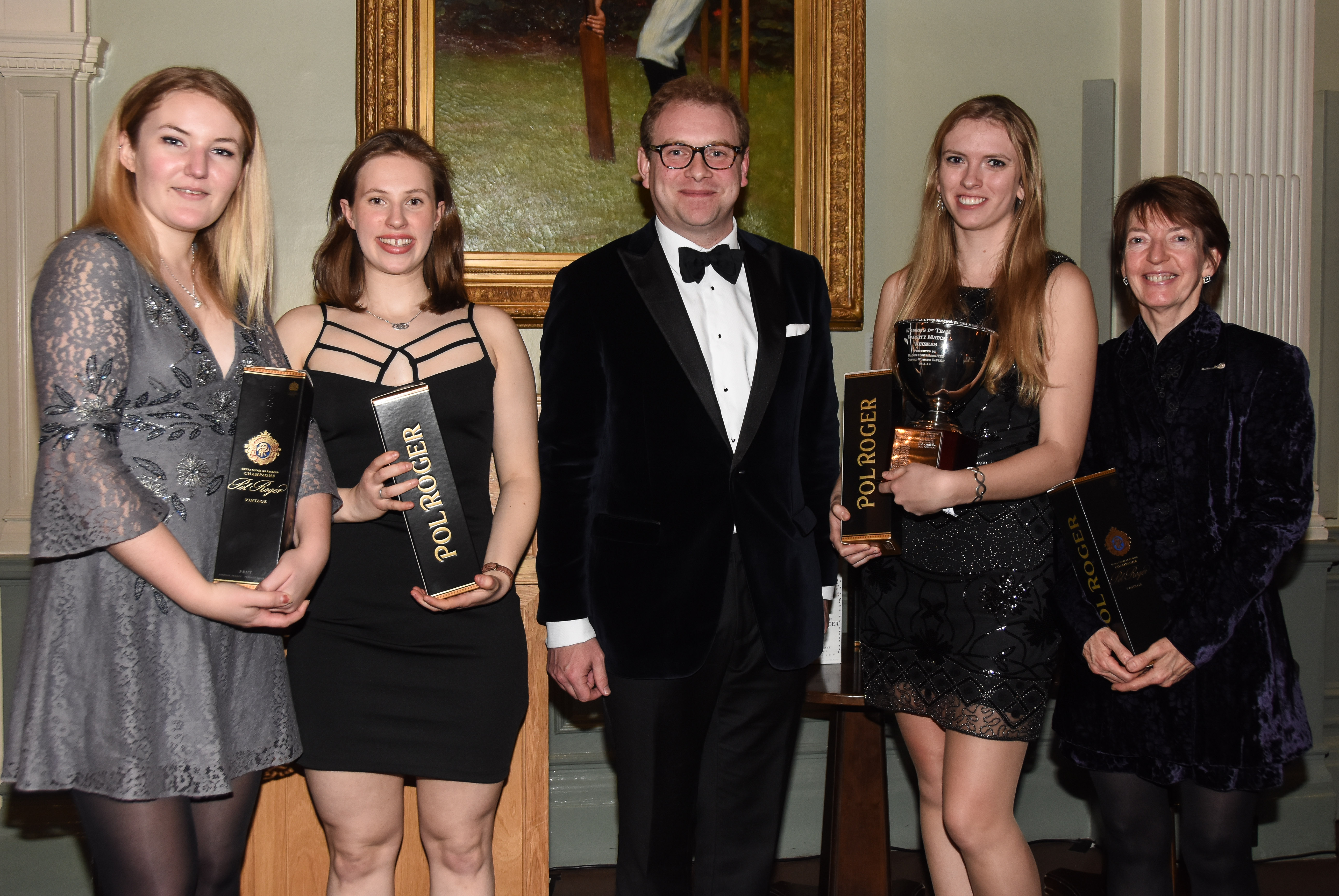 The Ladies' team were equally successful. An experienced Oxford team came up against an improving Cambridge squad, but there were no upsets in this match and Oxford defended their title with a comprehensive 6-0 victory.
As ever, huge thanks go to the MCC for hosting us, and to Pol Roger for their generous sponsorship.
More details....
Friday 2nd March
Ladies Singles & Doubles
Maggie Henderson-Tew (4) beat Alexandra Baranowski (4) 6-1, 6-0
Eve Shenkman (3) beat India Blaksley (3) 6-0, 6-1
Natalie Barber (2) beat Helena Tunks (2) 6-0, 6-0
Natalie Barber & Maggie Henderson-Tew (2) beat Helena Tunks & Alexandra Baranowski (2) 5-6, 6-1, 6-2
Men's Doubles
Will Morse & Charlie Defries (2) lost to Matt Shaw & Will Boys-Stones (2) 3-6, 2-6, 2-6
Rory Giddins & George Peel (1) beat Ed Hyde and Jimmy Campbell (1) 3-6, 6-2, 6-2, 4-6, 6-3
Saturday 3rd March
Ladies Singles & Doubles
Georgie Willis (1) beat Olivia Chesser 6-0, 6-1
Georgie Willis & Eve Shenkman (1) beat Olivia Chesser and India Blaksley (1) 6-2, 6-1
Men's Singles
George Peel (4) beat Will Boys-Stones (4) 6-2, 6-1
Charlie Defries (3) lost to Jimmy Campbell (3) 1-6, 2-6
Will Morse (2) lost to Ed Hyde (2) 3-6, 2-6
Rory Giddins (1) beat Matt Shaw (1) 6-1, 6-5
Deciding Doubles
Rory Giddins & Will Morse beat Mat Shaw and Ed Hyde 6-2, 5-6, 6-2
Final Result
Oxford Ladies won 6-0
Oxford Men won 4-3
Oxford into Brodie Cup final
Chris Lintott writes:
An excellent performance on and off the court saw the Oxford team safely through their semi-final against Manchester, with two large cottage pies consumed and the team 4/1 winners on court. Most of the drama was to do with court conditions, as Andrew's gloomy predictions of a sweaty court nearly put a halt to the charge of the home team.
First up were Natalie Barber and Archie Cornish in the 45 doubles. Archie and Natalie have been in superb form this season, and this was their most impressive performance yet. We won't mention that both double faulted to hand games to their opponents, part of a campaign to win friends as well as points. After one extended rest which saw Manchester scrambling to return multiple times off the tambour, a hit into the winning gallery from Archie was accompanied by a grin at the dedans, and a comment from an opposition fan about the loveliness of his smile. The Oxford dedans, meanwhile, were particularly enjoying Natalie's deadly serve as the Oxford pair won out 6/3 6/0.
Adam Jeffrey - last seen playing for Radley in last year's final! - was a new addition to the squad but struggled to get going after a week on the slopes. Given that the court was beginning to sweat - badly enough that the match was interrupted in the second set to allow a boxful of silica gel packets to do their work - you would have thought recent familiarity with slippery surfaces would have been an advantage, but Adam couldn't quite get ahold of a tenacious opponent. Even the enforced break, which was spent pacing around the court, didn't help. Adam went down 6/2 6/2 making it one game all.
Next up was Richard Oliver, in the first tier singles. Manchester regarded this as their 'banker', but some beautifully accurate play from Richard, hitting the ball firmly and low into corner after corner, meant that it was a pretty one sided affair. The Oxford tambour was also doing its job of confounding an opponent more used to the wide spaces of Manchester. 6/1 6/2 and Oxford back on top - and another break for a sweaty court before we could continue.
Silica gel applied again and then removed, the game of the day was the first string doubles, starring 'Flash' Oscar Marshall and Harry Lawes, the latter still in need of a nickname. The normally rock solid pair were coming off a surprising loss in the last round, and started tentatively. It wasn't from lack of effort - indeed, several times in the first set the pair put in double the required effort by both going for the same ball. Having been initially on top, they let the opposition back into the set and got stuck down the hazard end at exactly the wrong time. Manchester took the first set 6/5, and the tie was wide open. Gradually, though, the Oxford pair found their form, with Oscar solid at the net and Harry covering the back. A tense second set saw great tennis from both sides, but this time it was Oscar and Harry that took the service end, winning out 6/4 and setting the stage for a bizarre final set. Pinned down at the hazard, the Manchester pair responded with aggressive tennis, shooting for the dedans more often than not. Mark in particular provided solid defence, Oscar's serve clicked and both responded to wayward shots with glee; they eventually served for the entire set to win 6/0 and take the tie.
All that remained was Vaughan Roberts playing against Manchester's captain. A good natured tie saw some great rallies, but repeated use of the tambour by Vaughan as well as some clever serving meant that this too went our way 6/2 6/0. This was proper tennis - some in the dedans wondered if they were watching the first, not the third string, singles, but whenever a rest stretched on Vaughan's ability to just keep running eventually won the day. 4/1 is our most convincing win of the season, but the team will need to be on top form to challenge champions Radley on March 11th.
Youtube livestream link
To view our (very) occasional live streams, use this link.