News and Events
Mayfield Trophy
Mayfield Trophy played 12 - 14 May 2017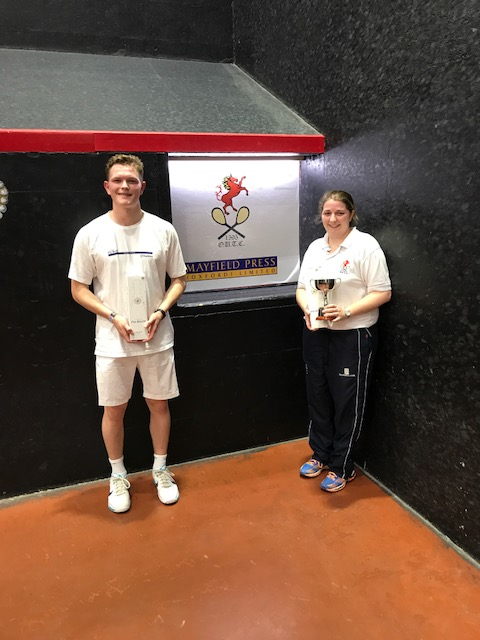 Congratulations to Lizzie Harnett, the winner of the inaugural Mayfield Trophy, and to James Baker, the runner up. The Mayfield Trophy is the club's new handicap singles weekend competition, generously sponsored by the club's chairman, Derek Williams of Mayfield Press.
Lizzie beat James 6-5 in the final of the tournament, having been 5-1 up at one stage. James made a valiant fight-back to get to 5 all, in what was an exciting and tense match between two players who seemed to be playing clearly above the standard expected given their handicaps. They were both worthy finalists.
First prize was a fantastic seven course lunch for two at Le Manoir aux Quat'Saisons. Both finalists received a bottle of Pol Roger champagne, and the losing semi-finalists received a bottle of wine each. Thanks Derek.
Perhaps the match of the knock-out stages was between Jean de Pourtales and Seth Whidden. The handicap difference was 36 meaning that they played off owe 1/2 30, receive 30 with Jean allowed only 1 serve, banned tambour, banned chases worse than 3+4, banned hazard chases when playing off chases, and the service end conceded after 1 chase. I'm not sure whether Andrew has marked such a match before. Jean gave a master class in how to play against an opponent receiving such an advantage, playing a very steady accurate game, with few errors, and making full use of the hazard end fore-hand corner to score a lot of winners. Despite this, he was unable to prevent Seth running out a good winner 6-3.
Overall the competition made for a very enjoyable week-end's tennis and looks set to become an established feature of the OUTC calendar. Thanks are due particularly to Derek the sponsor, to Craig and Andrew for organising the event and marking every match, and not least to all the members who entered.